Vyacheslav Kazimirovich Lipinsky (5 (18) April 1882 – June 14, 1931) – Ukrainian historian, journalist and political activist.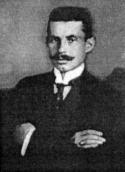 Born in the village Zaturtsi (now Lokachi district, Volyn region) in a family of Polish gentry [sometimes as his birthday serves April 1, 1881]. Belonging to a noble Polish Catholic environment had a dramatic impact on the fate Lipinsky.
In 1893 he went to Zhytomyr school, then moved to Lutsk and Kyiv, where he studied in the 1st Gymnasium. In 1902 he finished high school and entered the military service, but was soon released because of ill health (during all lifetime Lipinsky suffered from tuberculosis and died from this disease).
In 1903 – 1908 years he studied at the University of Krakow and in that time wrote with reviews on Polish historical works. From 1908, living constantly in Krakow, Lipinsky began a series of actions aimed at returning polonized (as he thought) Ukrainian nobility to the Ukrainian national life. His concept was described in the brochure «Szlachta na Ukrainie» (1909), which was strongly condemned by the Poles (who has since considered Lipinsky renegade).
In 1913 the family donated Lipinsky the estate Rusalivski Chagary near Uman, where he hoped to live as a landlord. In 1914 Lipinsky was mobilized to the Russian army, which was released after the February revolution 1917. During this time he developed a program Ukrainian democratic-tilling party which was published in October 1917. The largest achievement of the party was sharing in the coup April 29, 1918 by which the Central Council was overthrown and proclaimed Hetman P. Skoropadsky.
In May 1918 Hetman appointed Lipinsky as ambassador to Austria-Hungary; in this position he was after the fall of the Hetman and rebuild of the Ukrainian People's Republic – to June 1919.
Following the resignation Lipinsky stayed in Austria as emigrant. At this time, he developed a new political project – "Ukrainian Union of Grain growers – statesmen", who had become the basis for the restoration of Ukrainian statehood in the form of Hetmanate. He wrote several publicistic works, which set out the ideological and political position of the Union. In 1930 Lipinsky quarreled with Skoropadsky, left the Union and unsuccessfully tried to create a new political movement.
Lipinsky died in a sanatorium near Vienna and was buried in his native village Zaturtsi. Under Soviet rule his tomb was plundered, rebuilt in independent Ukraine.
Lipinsky's interest in the history of Ukraine was due to his political dream – to put the Polish gentry for leading role in evolving Ukrainian national movement. The historical precedent for such a combination he had seen in events of Liberation War of Ukrainian people led by Bohdan Khmelnytsky. Because his works imbued with a strong Polish gentry tendency and are more historical-journalistic than scientific.
Despite fails Lipinsky in practical politics, his ideas about building a society based on class peace (despite a ruling in his time ideas of class struggle) have some importance in our time.
Portrait V. K. Lipinsky that we present taken from the book "Letters of Mykhailo Hrushevsky" (K.: 2001, vol. 2, p. 271).
Lipinsky and Hrushevsky
1. The period of intensive engagement Hrushevsky with Lipinsky – a 1908 – 1913 years. At this time, despite a number of conflict episodes, they actively exchanged materials, including illustrative, consulted about publishing and socio-political projects. Lipinsky published his works in magazines edited by Hrushevsky (Proceedings Shevchenko Scientific Society, Literary and Scientific Gerald), and Hrushevsky had placed his articles in editions, issued by Lipinsky (Przegląd Krajowy, Z dziejów Ukrainy).
2. Moving Lipinsky to Rusalivski Chagary, related economic troubles, and the first World War interrupted his contacts with Hrushevsky.
3. Finally their ways parted in April 1918, when Lipinsky supported Hetman coup, which resulted Hrushevsky lost power. Neither in exile, when they both were in Austria, nor even more so after Hrushevsky return to Kyiv their contact was not restored.
M. Zh., 26 February 2017
Additional articles